COMPREHENSIVE DENTAL HYGIENE
Get your routine check-up and a professional teeth cleaning.
Improve your daily brushing and flossing with Dental Care Of Sumner
Daily brushing and flossing remove a great deal of the plaque and bacteria that accumulates on your teeth, but it's nearly impossible to remove it all on your own.
Your dental hygienist can be your partner in achieving good oral health and visiting the dentist at least twice a year for a professional cleaning can prevent tooth decay and periodontal (gum) disease. Our dentist may recommend more frequent visits based on the condition of your teeth and gums.
What to expect at your dental hygiene check-up appointment:
We provide a range of services to help with your hygiene and overall health. Please select an option:
Here is what is included in your typical hygiene appointment.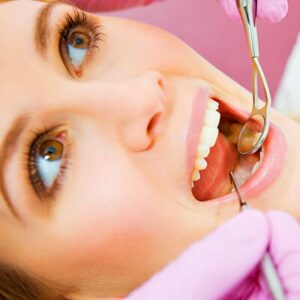 Visual & Gum Disease Evaluation
During the evaluation, your Dental Care Of Sumner dentist will check for cracked, broken, or decayed teeth as well as looking for any abnormal areas on your cheeks, gums, tongue, and roof of the mouth.
Since gum disease affects almost 50% of adults in the U.S. (Center for Disease Control), we perform a comprehensive assessment during your exam to check for any signs of periodontal disease.
When addressed in the early stages, periodontal disease is easily controlled and possibly reversible. Since gum disease exhibits minimal symptoms until it is significantly advanced, it is important to be evaluated for early stages of the disease. Conservative, early intervention is best and our team will assist you in choosing the best treatment options for your condition.
The dentist may recommend digital x-rays and photographs to help identify problem areas in your mouth. The type of images may vary based on your particular situation, but a full jaw x-ray, called a panoramic x-ray will give the dentist a comprehensive view of all the structures in your mouth as well as your jaw joint and your sinuses.
Digital 3D imaging may be appropriate in your situation to determine exact positioning of your teeth.
Your dentist may also use a special digital camera to take close up pictures of your teeth or gums. This will help them identify and monitor any areas of concern. We also use intraoral cameras to provide live images of while we examine your smile.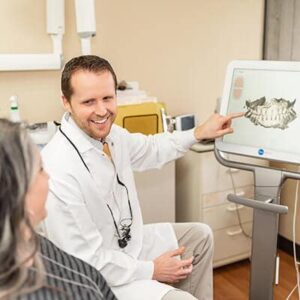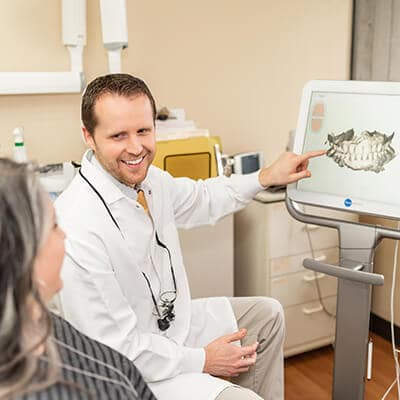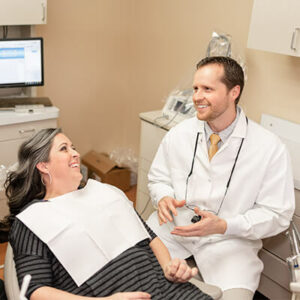 Cavity Prevention
The American Dental Association (ADA) recommends fluoride treatments based on your risk for developing cavities. Our team evaluates if your risk for cavities is low, moderate, or high, based on criteria outlined by the ADA.
Most individuals with low risk are offered a fluoride treatment twice a year.
Moderate risk individuals are offered fluoride twice a year as well as a take-home fluoride product to help reduce the chance of them getting another cavity.
Individuals with a high risk for cavities may be offered fluoride treatment more than twice a year, a take-home fluoride product, as well as an antimicrobial rinse to reduce the cavity-causing bacteria.
Professional Teeth Cleaning
All of our hygienists are well trained to perform a thorough teeth cleaning. Our team removes the plaque and tartar from your teeth and then polishes them to remove stains and smooth the tooth surface. In addition to hand-held hygiene techniques used by our skilled hygienists, ultrasonic devices deliver targeted treatments to hard to reach areas. These devices deliver ultrasonic vibrations to crush and move calcified deposits of calculus.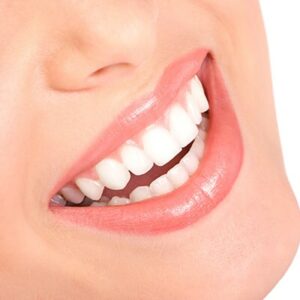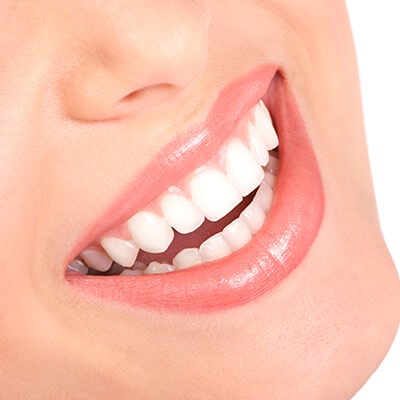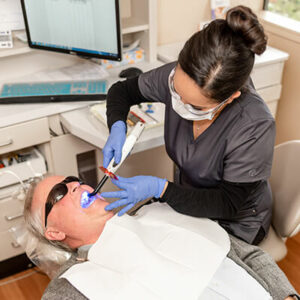 Development of oral cancer is on the rise. When detected in the early stages, most oral cancers respond very favorably to treatment. The risk of developing oral cancer increases five times with smoking, two and half times with excessive alcohol use and thirty-two times in the presence of a persistent HPV (Human Papilloma Virus) infection.
The dentist will look over all the tissue in your mouth, including your tongue, lips, and cheeks, checking for anything abnormal. He will also feel for any unusual lumps or bumps and make recommendations for follow up if necessary. We also have the ability to do a salivary screening to check for an active HPV infection. Recommendations for reducing your risk of developing oral cancer include regular screenings and possible lifestyle changes.
Taking your dental care into the modern age.
Lasers have been used in dentistry for several years and provide additional benefits when combined with regular cleanings or therapy for gum disease. There are two specific procedures performed by the hygienists in our offices that can reduce your risk of gum disease or provide improved healing if gum therapy is indicated.
LASER BACTERIAL REDUCTION
Also known as "Laser Decontamination".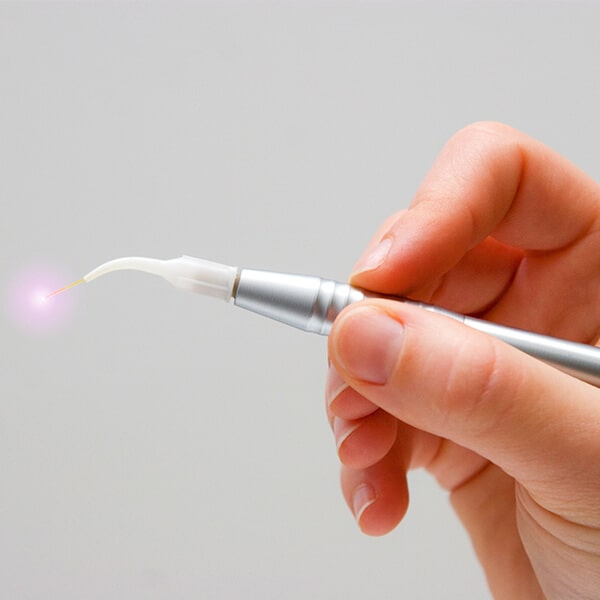 A procedure in which thermal, light energy is emitted through a small, fiber optic tip between the teeth and the gums. This energy is used to vaporize the harmful bacteria at or below the gum-line called biofilms.
Biofilms have been shown to be directly related to an increased risk of developing gum disease, a serious infection affecting the supporting bone. During your hygiene appointment, the hygienist will disrupt the biofilm to reduce the risk or severity of periodontal disease, but cannot eliminate the bacteria without the use of the laser. Destroying the bacteria will reduce inflammation in the gum tissue, and keep your gums healthier between visits.
LASER ASSISTED PERIODONTAL THERAPY
Laser Assisted Periodontal Therapy is a procedure in which thermal, light energy is emitted through a small, fiber optic tip between the teeth and the gums. This energy vaporizes the harmful bacteria at or below the gum-line and removes the infection.
Active periodontal disease is a result of this bacterial infection causing a breakdown of the gums and bone surrounding the teeth. Typically the infected, diseased tissue is removed with a procedure called curettage during gum therapy. It is a non-surgical, conservative procedure performed by your dental hygienist, using a local anesthetic.
Research shows that incorporating the use of the laser into gum therapy procedures "can produce an earlier and greater improvement in gingival health", and "these applications can be used to improve periodontal wound healing". The thermal energy produced by the diode laser stimulates circulation and formation of collagen fibers while reducing inflammation and bleeding.
There are no known side effects to incorporating the laser into gum therapy. Most patients report no discomfort during or after the use of the laser. Local anesthetic is utilized for most laser assisted periodontal therapies. It is also recommended to apply vitamin E oil following the therapy to provide a lubricant barrier and additionally promote healing.
Dental professionals now have access to this technology by using a laser specifically designed to treat the gums. Due to the advances in the production of these lasers, our office now has the ability to offer laser-assisted periodontal therapy as part of our standard of care. We are happy to treat our patients with an elevated level of care that is not only supported by the research but also affordable.
Although the laser kills millions of harmful bacteria during the procedure, the bacteria will multiply again over time, returning to original levels over the next several months. For this reason, we recommend laser decontamination therapy be included every time you see your hygienist. For some patients with a history of periodontal disease, this may be every 3 months. One of the most important factors in obtaining optimal oral health and controlling periodontal disease is the body's ability to fight off these harmful bacteria. Incorporating laser bacterial reduction into appointments following initial gum therapy keeps the bacteria at a lower level, giving the immune system a chance to keep the gums healthier.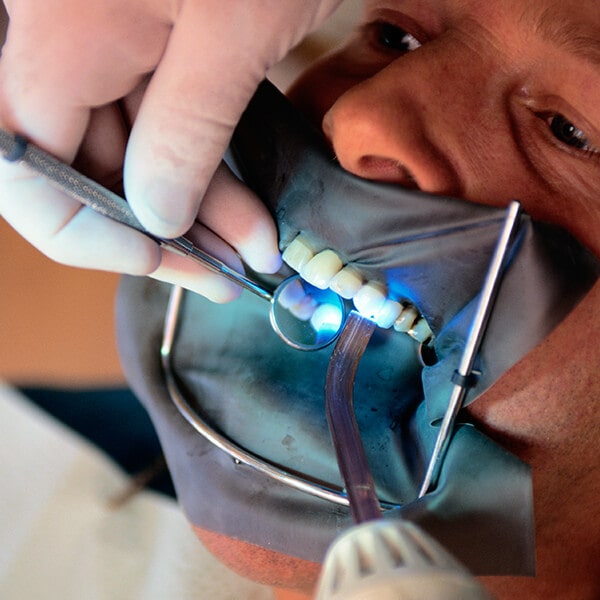 Wonderful experience- Staff and Doctor were amazing.

I've been going to Dental Care of Sumner for years now and I always leave a happy customer feeling like my teeth just got the very best care possible! From the friendly staff at the front desk, to the dental hygienists and Dr. Crane himself, everyone always makes me feel welcomed and cared for.

Taylor Evans
04:30 09 Nov 22
Dental Care of Sumner is the only Dentist I trust. I have been there many times in the past few years, and have had a great experience. I have an anxiety about going to the Dentist, but they have made the experience for me so much less stressful. I highly recommend them.

Frank Maturi
20:02 03 Jun 21
Wonderful personal level customer care they genuinely care about their customers.

alyssa pierson
18:53 04 Nov 20
I love coming here because the front office always takes care of me right away and friendly service. Always going above and beyond with customer questions and billing.Even after a year of not coming in they still recognized me by name. This is why I make the drive to come here 🙂

I really liked Hannah's cleaning. She was very gentle, yet thorough.

Sharlee Luben
19:18 10 Aug 20
Today I visited Dr, Crane for a tooth that had broken.I was greeted by the office staff, who were extremely friendly.Dr, Crane went over a treatment plan with me. I felt very comfortable and felt I was in good hands. I have a phobia of going to the dentist and today I felt no anxiety, while my visit.Dr, Crane is very educational and professional and down to earth.I feel very confident in my choice choosing Dental care of Sumner.

Anna Clark
22:05 28 May 20
Staff is very considerate and doctor very nice as well as staff. My experience was very good!

Donita Williams
19:47 28 May 20
They are a great complete dental service. Dr Crane is very skilled and passionate as well. My wife and I have been customers for at least five years and will never look for another dentist. not to mention we drive 15 mile to see them.

Peter Trench
15:20 30 Apr 20
Amazing people!! They care so much

Leanne Horton
01:29 03 Oct 19
I'll be the first to admit.... I hate going to the dentist. But Dr. Crane and his staff are phenomenal!!!!! Melissa was the best dental assistant, she made sure I felt comfortable and at ease. My teeth are in horrible condition and they gave me hope and did not make me feel judged like other places have in the past.

carolynn heft
17:59 05 Jun 19
Great Dentist and Staff! They always put the patients needs first.

Mindy Barney
20:06 17 Apr 19
I am fearful about going to the dentist. I put off the visit as long as I could, then Dr. Crane and Dental Care of Sumner were recommended to me. The first visit I was extremely nervous, however, the office staff, Hygienists and Dr. Crane, are all kind, professional and friendly. Everyone in the practice does what they can do to make the patient comfortable, informed and at ease. I highly recommend this office and Dr. Crane to anyone fearful of going to a dentist. Clean, friendly, kind and on time for appointments.

Norma DeVita
03:21 20 Feb 19
I have had GREAT experience at Dental Care Of Sumner. The staff are very friendly, their facility is super clean, and Dr. Crane's expertise is very evident in how he performs his job. All of the procedures have had done at Dr. Crane's office have been top notch and virtually painless. My wife and kids have stated many times how much they like Dr. Cranes office. If your looking for a GREAT dentist who is personable, honest, and professional you need to look no further. I highly recommend Dr. Crane and his staff at Dental Care of Sumner.

Joshua Rice
18:25 26 Dec 18
Dr. Scott Crane is wonderful and very knowledgeable. His hygienists are really good too. They have digital x-rays, and up to date equipment . The staff in the front office are pleasant, and do a great job with billing and the likes. I like going there, I highly recommend them.

Robin Mason
09:17 23 Dec 18
I feel comfortable the moment I walk in the office. The staff is extremely friendly. Dr. Crane is sensitive to the needs of the patient. If it hurts, he stops. I am thankful I have finally found a good dentist!

bethany haynes
23:09 20 Dec 18
I have horrible dental anxiety, and the staff here has been more than kind and comforting. They really reduce my anxiety!They always do a wonderful job, are very compassionate, and very knowledgeable.

Krissa Orlowski
22:23 20 Dec 18
I've never had a bad experience at Dental Care of Sumner in the many years we've been clients. Great staff, very personable and friendly. They care and it shows in their care! I've told a number of people of this office because I think this is a great team! Thanks everybody!!

Rod Nestor
21:54 20 Dec 18
Dr. Crane and his staff provide excellent care and customer service. They are professional, efficient and caring. Awesome!

Very friendly! We are happy to have found such a great family dentist. They are great at getting you in for emergencies too.

stacy terrell
18:46 20 Dec 18
I switched to this clinic almost 2 years ago because my last dental clinic was not very professional and just unsatisfied. Since switching, I'm happy every time from communication, to the staff, and high quality service. I'm glad I switched!Lauren R

Lauren Robles
18:43 20 Dec 18
I had a great experience as far as the cleanliness of the facility, friendliness of the staff and a seamless experience with the procedure.

Emmanuel Elopre
17:57 20 Dec 18
This place is so wonderful. They even let our kid play with the tools.

Curtis Black
17:53 20 Dec 18
Absolutely the best dentist and staff!! They make you feel very comfortable, do an excellent job, and are great at scheduling same-day/time appointments for multiple family members. The office is clean. They have a couple of dental chairs that look out onto the Puyallup River, which helps put your nerves at ease looking at the beautiful scenery.

Joshua and Kathryn Rice
17:33 20 Dec 18
Best dentist in Sumner by far no pain

David Suchan
17:21 20 Dec 18
This is a great place! I personally love my hygenist and with my frequent visits, i never have any hesitation in going because every appointment is a good experience. Brenda is fabulous in keeping you informed and helping you make sense of it all. Dr. Crane is professional, efficient, and friendly. All in all, best dental destination I've ever had!

Jason Wiswell
16:58 20 Dec 18
Friendly, gentle and thorough. Am glad that I found Dr. Crane and all of his staff. Had the best cleaning in years, then a crown replacement. Very pleased.

Sandy Young
16:51 20 Dec 18
I was looking for a new dentist a few years ago when I found Dr. Crane's team. My old dentist was kind of a stereotype, wait in a big room with a fish tank, do the initial floss and pick in silence, then so the little dance where they know you aren't flossing well but they ask you about your flossing so you can tell them rather than them talking about what you're missing. It drove me insane. I don't have that problem here.The office is warm and comfortable (smells nice too!) And everyone there is incredibly nice. Scheduling is a breeze, and they work hard to give mmultiple options. They are great with your dental plans helping you check on different prices and seeing how that sta as against your insurance. They do all that as they chat and joke with you. It's a beer personal experience.As for the dental work itself, i couldn't be happier. They talk with you as they go through the or cleaning, talking to you about missed spots and potential improvements. When they talk about brushing and flossing it's not one of those passive attempts to see of you lie instead it's an honest talk about what they are seeing and what you might have missed, and then it's done. I find that refreshing. Straight to the point, honest, and no pulled punches. In regards to the work they are gentle but still quick. They check in to make sure you are comfortable, they let you know what they are doing, and have no problem pausing to answer questions. A really great experience.If you are looking for a dentist this is the place to be.

Murry Bushnell
16:20 20 Dec 18
I had 2 teeth needing to be removed. I went threw alot of abuse as a child going to a dentist that i ended up going to a fear clinic denistry. I have a huge trust issue & still fearful of being worked on. But made me feel so comfortable i was able to get my teeth removed & i will continue to go back. They are amazing there the staff & all. Thank you guys for being compassionate.

Alicia Taylor
16:18 20 Dec 18
The staff there was very professional and nice. The dentist and hygienist were very professional and kind. I will definitely be a patient there for a long time.

Tammy RHINEHART
16:10 20 Dec 18
Very kind. Very quick and efficient. Always willing to work with my schedule. I highly recommend Dr. Crane

Kimberly Gregson
16:09 20 Dec 18
This office is fantastic! Staff is very professional and the care I've received here has been top notch. Being new to the area I'm so relieved that I was able to find a great dentist that I trust.

Lindsay Marie Sadler
03:04 15 Oct 18
My wife and I have been to Dental Care of Sumner. Dr. Crane and his professional team do a wonderful job. We have our teeth cleaned here and dental work. Dr. Crane is on the cutting edge of dental care. The staff truly cares about you as a patient, and have the up most respect for you as a patient. Wouldn't even think about you g somewhere else.

Mike Carter
23:46 22 Aug 18
I've been twice to this dentist. I've had a stellar experience each time. The staff is friendly and professional. I've never had to wait but a couple of minutes. I've been able to get in on short notice. Dr. Crane is thorough, professional, and confident. I highly recommend Dental Care of Sumner.

Brittiny Epperson
13:54 06 Mar 18
I have been going here for many years. Long before Dr Crane bought the business and it continues to have the best atmosphere with friendly helpful staff. Hope I never have to change Dentist . I love it here. I go every 3 months to have my teeth cleaned.

Marla Lobri
20:36 18 Jan 18
Dr. Crane made my smile very lovely and gave me my confidence back. He works with great focus and his pace and work, precise.

I have been very impressed with Dr. Crane and the staff at Dental Care of Sumner. My mouth is a train wreck and every procedure I have had has been as enjoyable as it can be. They are constantly checking on my comfort, working with my insurance prior to billing and overall a great practice to have my dental work completed at. I highly recommend them!

Lon Weaver
21:24 05 Dec 17
My husband and I have been patients of this location for at least 30 years...Our experiences have been fantastic. The staff is knowledgeable and so helpful. The front desk and our hygienest are the best. We would recommended this business to anyone.

Yvonne Owen
23:30 07 Apr 17

Frank Wilson
23:42 28 Dec 16
Super nice, personable staff. Very fast and efficient, they do consistently great work.

Danielle Carr
17:19 21 Dec 16
Been going to this location as long as I can remember. Tried another Dentist once and will never do it again. Got my husband going here and next I'll be bringing my son.

Mary Scrimpsher
22:59 19 Oct 16
I have gone here now for several years. Each time the staff are thoughtful and gentle during the cleaning process! Highly recommend!

Jill Whelan
18:55 18 Oct 16
This was my second visit to Dr Crane. I have been nervous about going to the dentist since a child. Both visits he has been the upmost professional, kind, compassionate and patient. I highly recommend him to anyone who is looking for professional, quality dental work.

Rachel Andrews
15:33 11 Sep 16
Dr. Crane is the best dentist I've ever been to! I've moved all over the U.S. so I've seen many.I have been suffering almost a year with a dying nerve, because I get extremely anxious about the dentist. Today the pain got the better of me, and I started calling dentists in the area. I called several other dentists first, but these guys fit me in immediately! I was so nervous in the chair, but Dr. Crane made sure to give me enough local anesthesia to actually numb out ALL the pain! And he was super slow and careful, so I felt very little pressure. I rarely write reviews, but I have to say that I'm super impressed with this office, Dental Care of Sumner. The lady's were all joking and laughing with each other, creating a relaxed happy atmosphere, which truly helped my anxiety! Thank you Dental Care of Sumner!

Lisa McKee (Realtor)
03:17 30 Oct 15
This place is awesome! Dr. Crane and his staff were so nice to me, my wife, and all my kids. I used to hate going to the dentist, but now I actually look forward to my visits. Dr. Crane and his staff treated all of us like we were all part of the family, and provided amazing service in a friendly and professional manner. I would recommend Dental Care of Sumner to anyone looking for a top notch dental service! We have finally found a dentist that we trust!

Garet Barney
04:27 11 Feb 15
If I could give 10 stars I would. This is such a great place. Dr. Crane is very caring and takes the time to explain the treatment I need. When I have my teeth cleaned the Hygienist does a great job and my teeth always feel so clean. The front office is very accommodating and always works with my schedule. The assistants are great at making me feel at ease during my appointment. I have neck issues and they always have my pillow waiting without me having to ask for it. Everyone is very professional but fun. I would recommend going to Dr. Crane. It's a great place.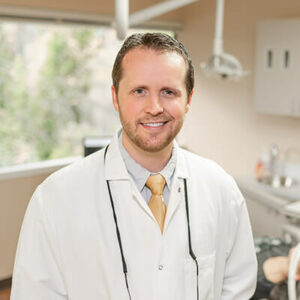 How often should I get my teeth cleaned?
The Academy of General Dentistry recommends seeing the dentist for a check-up and cleaning at least twice a year. Your Sumner dentist may recommend you visit more often depending on your specific situation and risk of disease. Some conditions such as diabetes, heart disease, or pregnancy may require more frequent cleanings to keep you and your mouth healthy.
Will my insurance cover my check-up appointment?
Most insurances cover the procedures completed at a check-up and cleaning appointment. Our great team of insurance coordinators will help you navigate through your specific insurance benefits and provide you with an estimate of costs should there be a remaining balance after the insurance payment.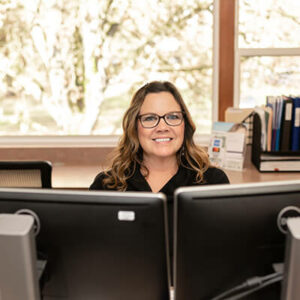 MAINTAIN YOUR ORAL HEALTH
Improve hygiene habits and enjoy a gentle cleaning with our team.